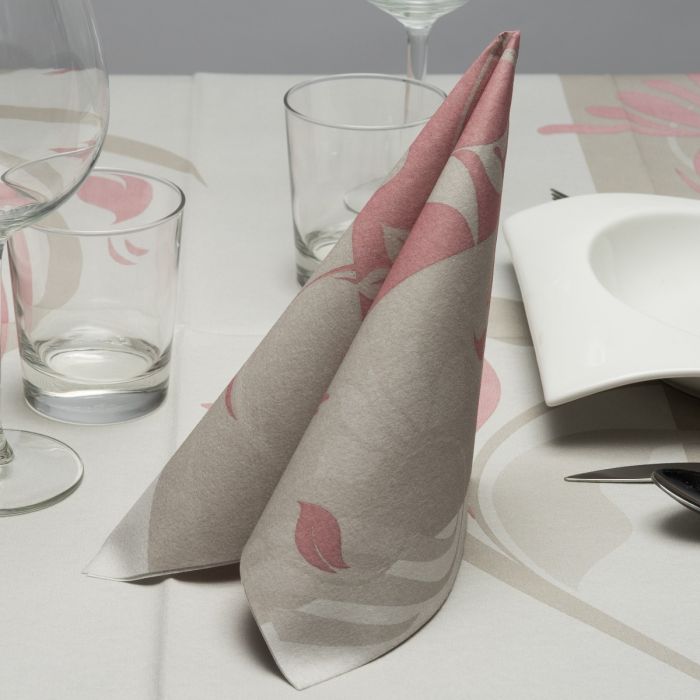 The table in the photo measures 80 cm x 80 cm
Extra automatic discount in cart
5% from 3 Products
10% from 15 Products
15% from 30 Products
Nonwoven Disposable Airlaid Napkins 40x40 Florence
Material

CAS-AIRLAID

Format

40x40: 1000pcs per carton

Weight

14 KG

Made in

Italy

Delivery

Tntgiusky 5-10 days
Ti presentiamo i tovaglioli TnT monouso 40x40 per ristoranti Linea Florence.
Composti in Cas-Airlaid, questo prodotto viene ottenuto grazie alla lavorazione del tessuto non tessuto composto da fibre di cellulosa. Questo processo di lavorazione rende la carta a secco priva di materie plastiche e adatta al contatto con gli alimenti. La tecnica ad'aria utilizzata nella lavorazione fa si che il prodotto risulti tatto al morbido e liscio, inoltre, non viene colorato in polpa. Questo prodotto, infatti, nasce interamente bianco e successivamente stampato solo su un lato, così facendo, si ottiene un tovagliato economico, di alta qualità e dal design ricercato.
I tovaglioli airlaid sono caratterizzati da un gioco di forme e fiori stilizzati. Alla base dei colori ci sono due diverse tonalità di grigio, ma a rendere il tutto più esclusivo, sono le quattro colorazioni disponibili che donano al tovagliolo il tocco finale; dallo stile moderno e raffinato questo prodotto è adatto a ogni tipo di ristorazione, occasione, catering o evento.. Sono abbinabili alle tovaglie TnT 150x150 o 140x140 classiche, ai runner tnt e ai coprimacchia 100x100 usa e getta della stessa linea.
Tutta la linea del tovagliato tnt in Airlaid è al miglior prezzo all'ingrosso! 
TOVAGLIOLI TNT 40X40 CM. APERTO 
SCHEDA TECNICA
LINEA FLORENCE
AVORIO ARTICOLO TOFR2935
ROSA ANTICO ARTICOLO TOFR2936
PRUGNA ARTICOLO TOFR2937
BLU ARTICOLO TOFR2938
COMPOSIZIONE
MATERIALE: CELLULOSA + VYNIL ACETATE (WAE)
LISCIO AL TATTO
GRAMMATURA: 55 G/M2
TOLLERANZA +/- 10%
MADE IN ITALY
IMBALLAGGIO
CARTONE DA 1000 PEZZI (20 BLISTER DA 50 PEZZI)
MISURA DEL CARTONE: 42X42X39
PESO LORDO 9.8KG
PESO VOLUMETRICO 14KG (La formula prevista per calcolare il peso volumetrico di una spedizione è data dal prodotto tra le 3 dimensioni del pacco diviso per 5000)
RIFIUTO INDIFFERENZIATO
Lo smaltimento corretto del tovagliato monouso per ristoranti prodotti in carta a secco, è nella frazione secca della differenziata.
CERTIFICAZIONE IDONEITA' AL CONTATTO CON PRODOTTI ALIMENTARI
 Regolamento (CE) N.1935/2004DM 21/03/1973 e successivi aggiornamenti e modifiche
RISPARMIA CON TNTGIUSKY:
Da 3 prodotti anche assortiti nel carrello riceverai il 5% di sconto automatico.
NOTA BENE: Acquistando 3 cartoni di tovaglie monouso o 2 di Runner tnt e 1 cartone di tovaglioli usa e getta, non avrai rimanenze in magazzino!
Se sei indeciso o vuoi ulteriori chiarimenti, non esitare a contattare l'assistenza. Possiamo sviluppare l'ordine al posto tuo.
ASSISTENZA:    3201855368    
Compounded in Cas-Airlaid, this product is made by processing nonwoven fabric composed of cellulose fibers. This processing makes dry paper free of plastics and suitable for food contact. The air technique used in the processing makes the product feel soft and smooth; moreover, it is not colored into pulp. In fact, this product is born entirely white and then printed only on one side, thus, resulting in an inexpensive, high quality, and beautifully designed table cloth.
Airlaid napkins feature a play on stylized shapes and flowers. At the base of the colors are two different shades of gray, but making it more exclusive are the four available colors that give the napkin the finishing touch.With a modern and refined style, this product is suitable for any type of restaurant, occasion, catering or event. They can be matched with TnT 150x150 or 140x140 classic tablecloths, tnt runners and 100x100 disposable tablecloth covers from the same line.
The entire line of Airlaid nonwoven tablecloth is at the best wholesale price!
TNT NAPKINS 40X40 CM. OPEN
TECHNICAL DATA SHEET
FLORENCE LINE
ANTIQUE PINK ITEM TOFR2936
COMPOSITION
MATERIAL: CELLULOSE + VYNIL ACETATE (WAE)
SMOOTH TO THE TOUCH
GRAMMAGE: 55 G/M2
TOLERANCE +/- 10%
MADE IN ITALY
PACKAGING
CARTON OF 1000 PIECES (20 BLISTERS OF 50 PIECES)
CARTON SIZE: 42X42X39
GROSS WEIGHT 9.8KG
VOLUMETRIC WEIGHT 14KG (The formula provided for calculating the volumetric weight of a shipment is given by the product between the 3 package sizes divided by 5000)
UNDIFFERENTIATED WASTE
The proper disposal of disposable restaurant table linens produced in dry paper is in the dry fraction of the separated waste.
CERTIFICATION OF SUITABILITY FOR CONTACT WITH FOODSTUFFS
Regulation (EC) No.1935/2004DM 21/03/1973 and subsequent updates and amendments
SAVE WITH TNTGIUSKY:
From 3 even assorted products in your cart you will receive 5% automatic discount.
PLEASE NOTE: By purchasing 3 cartons of disposable tablecloths or 2 of tnt runners and 1 carton of disposable napkins, you will not have any leftover stock!
If you are undecided or want further clarification, please feel free to contact support. We can develop the order for you.
ASSISTANCE: 3201855368
More Information

| | |
| --- | --- |
| Delivered by | Tntgiusky 5-10 days |
| Product Info | SIZE 40X40 PIECES 1000 PER CARTON |
| Product type | Napkin |
| Brand | Ro.ial |
| Material | CAS-AIRLAID |
Shipping times and costs
Shipment within 5-10 working days after order confirmation.
Telephone order
Order by phone or whatsapp by contacting us at +39 320 1855368,customer service is available Monday to Friday from 09:00 to 16:00. We will be at your disposal to complete your online purchase by paying by credit card, bank transfer or on delivery.
Returns, Exchanges and Refunds
Our return policy is valid for 14 days. The consumer's right of withdrawal applies exclusively to products that do not conform to those ordered. We are available for any doubts or questions regarding the products
Ratings & Reviews
Be the first to review this product
Write your review
About the Nonwoven Disposable Airlaid Napkins 40x40 Florence