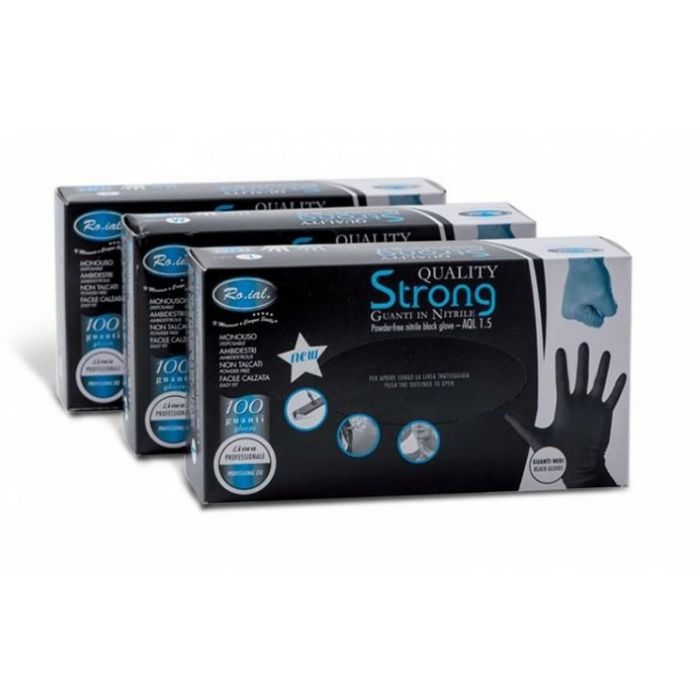 The table in the photo measures 80 cm x 80 cm
Extra automatic discount in cart
5% from 3 Products
10% from 15 Products
15% from 30 Products
Black Non Talc Nitril Gloves Strong Roial GUA565
Material

NITRIL

Format

Size S/M/L; 1000 pcs (500 couples) per carton

Weight

6 KG

Made in

China

Delivery

Tntgiusky 5-10 days
Guanti in Nitrile Non Talcati Neri Strong Roial GUA565
Guanti monouso in nitrile di TNTGIUSKY
I guanti nitrile sono realizzati con una composizione a base di butadine e acrilonitrile, sostanze appartenenti alla famiglia delle gomme. 
Questo tipo di guanti nitrile monouso vantano caratteristiche come l'elevata comodità ed ergonomia, la massima elasticità e alta resistenza meccanica.
Affidabili, protettivi e ultra resistenti, i guanti in nitrile neri senza polvere sono dispositivi medici praticamente perfetti per essere usati in ogni situazione, dalla sala operatoria alle pulizie di casa, in quanto sono molto confortevoli e funzionali.
I guanti neri nitrile tutelano la salute e proteggono la pelle da batteri e detergenti aggressivi. Inoltre assicurano meno rischi di allergie e sono adatti in tantissimi settori come l'estetica e i parrucchieri.
Inoltre il loro utilizzo è indispensabile ad esempio nel settore alimentare, poiché consentono di maneggiare qualsiasi cosa agevolmente e non inquinano i cibi.
TNTGIUSKY è l'ingrosso guanti nitrile a portata di click.
SCHEDA TECNICA
NERO ARTICOLO GUA565
IMBALLAGGIO
CONFEZIONE da 100 pezzi
CARTONE da 1000 pezzi
MISURE DEL CARTONE  31,5 x 24.8 x 23 cm
PESO LORDO 6 kg
PESO VOLUMETRICO 4 kg (La formula prevista per calcolare il peso volumetrico di una spedizione è data dal prodotto tra le 3 dimensioni del pacco diviso per 5000)
RIFIUTO INDIFFERENZIATO
Lo smaltimento corretto dei guanti in nitrile monouso è nella frazione dell' indifferenziata***
***Salvo diversa indicazione degli enti locali preposti.
NON DISPERDERE NELL' AMBIENTE.
RISPARMIA CON TNTGIUSKY:
Da 3 prodotti anche assortiti nel carrello riceverai il 5% di sconto automatico.
Se sei indeciso o vuoi ulteriori chiarimenti non esitare a contattare l'assistenza. Possiamo sviluppare l'ordine al posto tuo. 
ASSISTENZA: 3201855368
Nitrile gloves are made with a composition based on butadine and acrylonitrile, substances belonging to the rubber family.
This type of disposable nitrile gloves boast such features as high comfort and ergonomics, maximum elasticity and high mechanical strength.
Reliable, protective and ultra-resistant, powder-free black nitrile gloves are practically perfect medical devices for use in any situation, from the operating room to house cleaning, as they are very comfortable and functional.
Black nitrile gloves protect health and protect the skin from bacteria and harsh detergents. They also ensure less risk of allergies and are suitable in so many areas such as aesthetics and hairdressing.
In addition, their use is indispensable in the food industry, for example, as they enable easy handling of anything and do not pollute food.
TECHNICAL DATA SHEET:
BLACK ARTICLE GUA565
PACKAGING
PACKAGE of 100 pieces (50 pairs)
CARTON of 1000 pieces (500 pairs)
CARTON MEASURES 31.5 x 24.8 x 23 cm
GROSS WEIGHT 6 kg
VOLUMETRIC WEIGHT 4 kg (The formula provided for calculating the volumetric weight of a shipment is given by the product between the 3 package sizes divided by 5000)
UNSORTED WASTE
Proper disposal of single-use nitrile gloves is in the 'undifferentiated fraction***
***Unless otherwise specified by the local authorities in charge.
DO NOT DISPOSE OF IN THE 'ENVIRONMENT.
SAVE WITH TNTGIUSKY:
From 3 even assorted products in your cart you will receive 5% automatic discount.
If you are undecided or want further clarification, please do not hesitate to contact support. We can develop the order for you.
ASSISTANCE: 3201855368
More Information

| | |
| --- | --- |
| Delivered by | Tntgiusky 5-10 days |
| Product Info | 10 PACKS OF 100 PIECES (50 COUPLES) PER CARTON |
| Product type | Clothing |
| Brand | Ro.ial |
| Material | NITRIL |
Shipping times and costs
Shipment within 5-10 working days after order confirmation.
Telephone order
Order by phone or whatsapp by contacting us at +39 320 1855368,customer service is available Monday to Friday from 09:00 to 16:00. We will be at your disposal to complete your online purchase by paying by credit card, bank transfer or on delivery.
Returns, Exchanges and Refunds
Our return policy is valid for 14 days. The consumer's right of withdrawal applies exclusively to products that do not conform to those ordered. We are available for any doubts or questions regarding the products
Ratings & Reviews
Be the first to review this product
Write your review
About the Black Non Talc Nitril Gloves Strong Roial GUA565