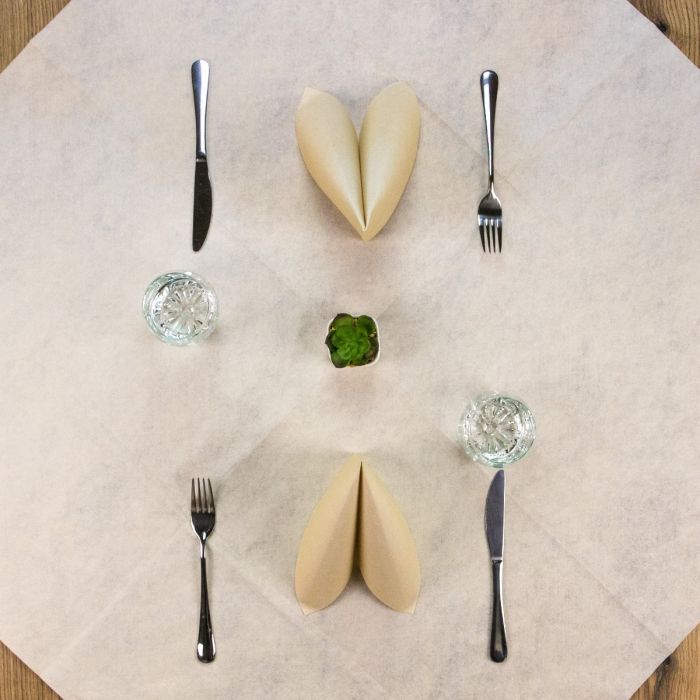 The table in the photo measures 80 cm x 80 cm
Extra automatic discount in cart
5% from 3 Products
10% from 15 Products
15% from 30 Products
Nonwoven Airlaid Disposable Tablecloth 100x100 Cadì
Material

CAS-AIRLAID

Format

100x100:100pcs per carton

Weight

10 KG

Made in

Italy

Delivery

Tntgiusky 5-10 days
Disposable tablecloths for Restaurants in Cas- Airlaid
Disposable Tablecloths Zucchero Line 100x100 by Nonwoven Giusky
Non-woven tablecloths are made from cellulose fibers. These disposable tablecloths are manufactured entirely white, and subsequently printed only on one side, fixed with a latex bath. This type of one-sided printing is designed to have an economical and high quality non-woven tablecloth , without sacrificing uniqueness. The Airlaid is free of plastics so as to make the restaurant tablecloth suitable for contact with food. Disposable Tablecloths for restaurants are smooth and soft to the touch, are super resistant, even to traction, and very absorbent.
The Nonwoven stain covers have a plain background with a dotted effect. With a refined style, they are suitable for any type of restaurant. These Disposable Tablecloths are very opaque and can be placed directly on the table, so as to make the mise en place minimalist. Airlaid paper tablecloths can be combined with the classic 150x150 or 140x140 Nonwoven tablecloths and 40x40 disposable Nonwoven napkins from the same line. Available in six colors.
In our online catalog you will find all the lines of Nonwoven tablecloths and nonwoven napkins
DATA SHEET
CADÌ LINE
GRAPHITE ITEM TVCAD3525
PEARL ITEM TVCAD3526
COFFEE ARTICLE TVCAD3527
OCHER ITEM TVCAD3527
SAND ITEM TVCAD3529
AQUAMARINE ITEM TVCAD3530
COMPOSITION
MATERIAL: CELLULOSE + VYNIL ACETATE (WAE)
SMOOTH TO THE TOUCH
WEIGHT: 55 g/m2
TOLERANCE +/- 10%
MADE IN ITALY
PACKAGING
CARTON OF 100 PIECES (5 BLISTERS OF 20 PIECES)
CARTON SIZE: 53X26X34
GROSS WEIGHT 6.5KG
VOLUMETRIC WEIGHT 9.5KG (The formula provided for calculate the volumetric weight of a shipment is given by the product of the 3 dimensions of the package divided by 5000)
INDIVIDUAL REFUSAL
The correct disposal of disposable tablecloths for restaurants produced in dry paper is in the dry fraction of the differentiated.
CERTIFICATION OF SUITABILITY FOR CONTACT WITH FOOD PRODUCTS
Regulation (EC) N.1935/2004DM 21/03/1973 and subsequent updates and modifications
SAVE WITH Nonwoven GIUSKY:
From 3 products, even assorted, in the cart, you will receive an automatic 5% discount.
PLEASE NOTE : By purchasing 3 boxes of Airlaid paper tablecloths or 2 of Tete a Tete and 1 box of disposable napkins , you will have no inventories!
If you are undecided or would like further clarification, do not hesitate to contact support. We can also develop the order for you.
ASSISTANCE: 3201855368
More Information

| | |
| --- | --- |
| Delivered by | Tntgiusky 5-10 days |
| Product Info | SIZE 100X100 PIECES 100 PER CARTON |
| Product type | Tablecloth |
| Brand | Ro.ial |
| Material | CAS-AIRLAID |
Shipping times and costs
Shipment within 5-10 working days after order confirmation.
Telephone order
Order by phone or whatsapp by contacting us at +39 320 1855368,customer service is available Monday to Friday from 09:00 to 16:00. We will be at your disposal to complete your online purchase by paying by credit card, bank transfer or on delivery.
Returns, Exchanges and Refunds
Our return policy is valid for 14 days. The consumer's right of withdrawal applies exclusively to products that do not conform to those ordered. We are available for any doubts or questions regarding the products
Ratings & Reviews
Be the first to review this product
Write your review
About the Nonwoven Airlaid Disposable Tablecloth 100x100 Cadì