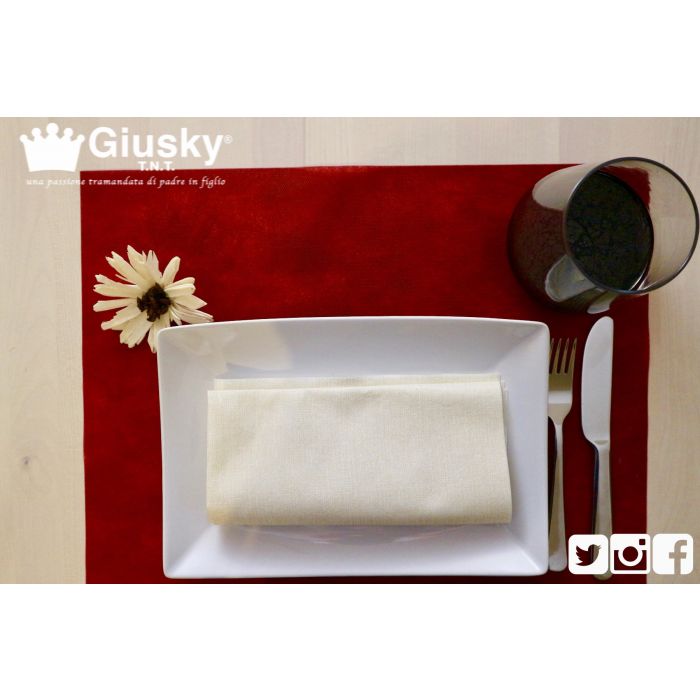 The table in the photo measures 80 cm x 80 cm
Extra automatic discount in cart
5% from 3 Products
10% from 15 Products
15% from 30 Products
Nonwoven Disposable Placemat 30x40 Roial Fiesta
Material

TNT

Format

30x40: 1200pcs per carton

Weight

10.5 KG

Made in

Italy

Delivery

Tntgiusky 5-10 days
The Roial Fiesta Line Nonwoven Placemats are placemats in non-woven polypropylene fabric, born from the processing of a plastic polymer, with a production technique called "Spun Bonded". The processing makes the fibers extremely elastic and resistant and have a slight embossing; 100% synthetic material; which originates in white or colored origin and are available in various colors.
Suitable for a simple mise en place, but with a refined style, create your table by combining them with the disposable napkins that you find in our Nonwoven Catalog for sale online . Furthermore, these disposable American placemats are excellent for hotel breakfasts as well as for business lunches in restaurants . Easy disposal product, 100% Made in Italy, high quality at the best price guaranteed.
The disposable Nonwoven placemats , of our production, is a product that is water-repellent, practical and durable. The non-woven fabric that composes them is non-tearing, fireproof and does not let liquids pass.
DATA SHEET
Fiesta LINE
RED ITEM TVFIM214
BLUE ARTICLE TVFIM215
YELLOW ITEM TVFIM216
WHITE ARTICLE TVFIM217
BORDEAUX ITEM TVFIM218
GREEN ITEM TVFIM219
BROWN ITEM TVFIM221
SAND ITEM TVFIM222
BLACK ITEM TVFIM223
CHAMPAGNE ITEM TVFIM224
LIGHT BLUE ARTICLE TVFIM225
ORANGE ARTICLE TVFIM226
CREAM ITEM TVFIM227
PEARL ITEM TVFIM2478
ANTHRACITE ITEM TVFIM2481
BUTTER ITEM TVFIM2642
PINK ITEM TVFIM576
FUCHSIA ITEM TVFIM884
PURPLE ARTICLE TVFIM885
KIWI ITEM TVFIM886
COMPOSITION
MATERIAL: 100% Polypropylene
EMBOSSED TO THE TOUCH WITH DOTTED EFFECT
WEIGHT: 50 g/m2
TOLERANCE +/- 10%
MADE IN ITALY
PACKAGING
CARTON OF 1200 PIECES (12 PACKS OF 100 PIECES)
CARTON SIZE: 33X41X38
GROSS WEIGHT 6.5KG
VOLUMETRIC WEIGHT 10.5KG ( The formula provided for calculate the volumetric weight of a shipment is given by the product of the 3 dimensions of the package divided by 5000)
INDIVIDUAL REFUSAL
The correct disposal of disposable tablecloths for restaurants produced in Nonwoven Polypropylene is in the dry fraction of differentiated waste.
CERTIFICATION OF SUITABILITY FOR CONTACT WITH FOOD PRODUCTS
Regulation (EC) N.1935/2004DM 21/03/1973 and subsequent updates and modifications
SAVE WITH TNTGIUSKY:
From 3 products, even assorted, in the cart, you will receive an automatic 5% discount.
PLEASE NOTE : By purchasing 3 boxes of disposable tablecloths or 2 of Tete a Tete and 1 box of disposable napkins , you will have no inventories!
If you are undecided or would like further clarification, do not hesitate to contact support. We can also develop the order for you.
ASSISTANCE: 3201855368
availability yes
More Information

| | |
| --- | --- |
| Delivered by | Tntgiusky 5-10 days |
| Product Info | SIZE 30x40 PIECES 1200 PER CARTON |
| Product type | Placemats |
| Brand | Ro.ial |
| Material | TNT |
Shipping times and costs
Shipment within 5-10 working days after order confirmation.
Telephone order
Order by phone or whatsapp by contacting us at +39 320 1855368,customer service is available Monday to Friday from 09:00 to 16:00. We will be at your disposal to complete your online purchase by paying by credit card, bank transfer or on delivery.
Returns, Exchanges and Refunds
Our return policy is valid for 14 days. The consumer's right of withdrawal applies exclusively to products that do not conform to those ordered. We are available for any doubts or questions regarding the products
Ratings & Reviews
Be the first to review this product
Write your review
About the Nonwoven Disposable Placemat 30x40 Roial Fiesta